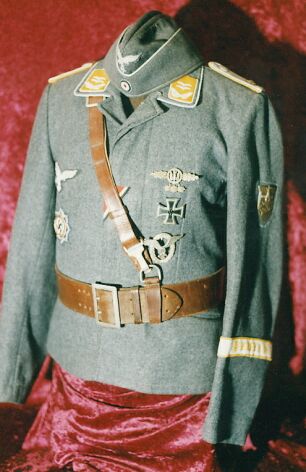 No the DKiG and armband/shield are not originally on, but it looks good anyway eh? The one on the right belonged to Karl Lauch.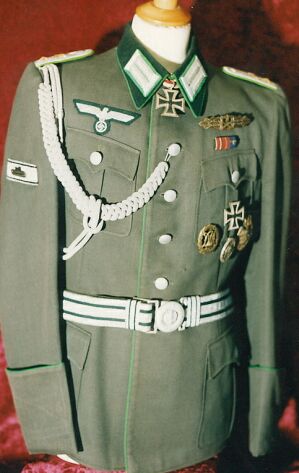 Here I might put my favorite picture of me involved in my hobby.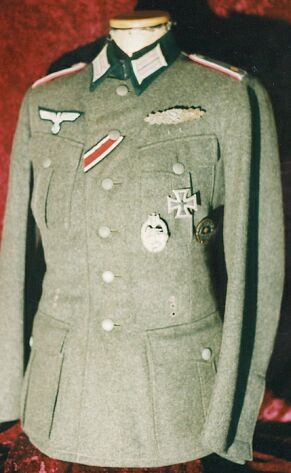 I got this jacket from a very honest guy who told me it was Oeter Priens. I only had one late war shot of prien where he had a tank destruction badge, I never could figure out why the jacket had traces of 2 tank destruction badges and an arm shield. So for a few years I could only trust it on the word of the guy i got it from. I had also replced the broken loops as they were seemingly to low on the pocket. The... Whammo. Gordon Williamson posts a pic of Prien wearing this jacket with 2 Tank buster badges, arm shield, lops low on the pocket, slightly crooked collar and a host of small things you can identify it buy... So, I owe Gordon a beer.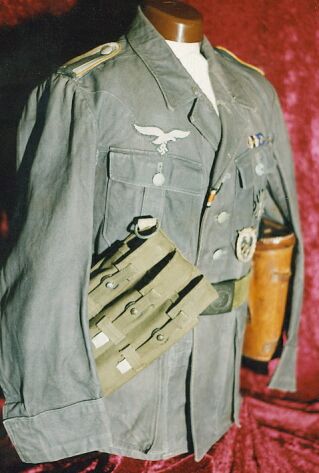 This one is really Scarce, The only written reference to it is in the German version of Angolias Luftwaffe book (or you could say it is missing in the English version of Schichts book as traslated by Angolia).
Here he mentions the introduction of a small number of Blue Luftwaffe tropical uniforms in Greece and the Balkans. These were as a test, they were never adopted in large numbers and were soon replaced by the Herringbone twill jackets.