Enter subhead content here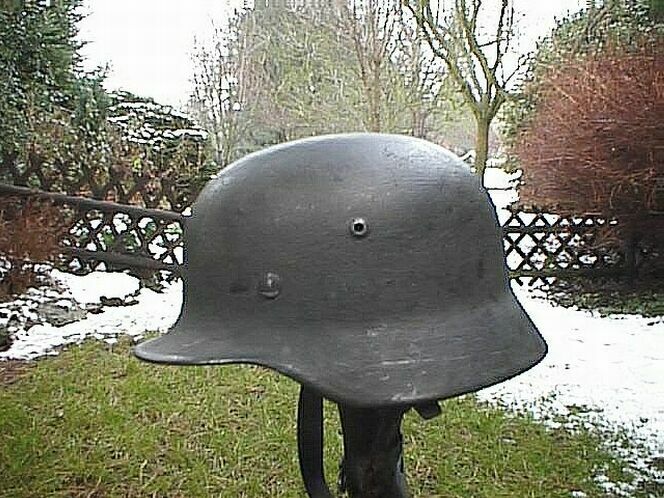 How complicated can buying a simple helmet be ? How much fun can the helmet be when you have to pay through your nose ?
A guy I know had this helmet, he got it with the Jacket and Visor cap from the guys Family. Now, I am not a helmet guy by any means, I have two, both you can see right here. When I was about 13 I repainted a helmet with Humbrol aircraft paints. A few years later I sold it to a dealer in Toronto as a repaint, it had been kicked around the Garden, moved around with me and had that battle scared monte Cassino look. Anyway, he sold it a well respected Canadian collector as Original, and from that time on I decided forget it.
Here in Germany it is a cottage industry to restore helmets to their original Battle front glory.
Anyway, a few days ago I decided I wanted a real front repainted helmet and called him up because I knew he was renovating and was a bit Geld Geil at the moment.
So, I bought it over the telephone, I had remembered it as a Field Cammo job. When I got there I recognised the helmet right away, but it was an even green field coat of paint. Also the strap was replaced (very obviously period) with what seems to be an Italian Helmet strap, they are a bit wider and more comfortable, with a flat leather part under the buckle.
Anyway, he would not come down in the price, and I did not want to back out of a deal, so I took it, making a note that the Jacket and loose shoulderboards had the numbers and colours for artillery Regt 96 on them. When I got home I found I had leant my books with units in to someone and found out that the 96th arty Regt was part of the 44th Inf. Div Hoch und Deutschmeister the unit that was later to wear the Stalingrad cross on the shoulder boards.
On top of that they fought for a year or so in Italy, more or less explaining the Italian chin strap.
When I have a bit of time I will research Oblt (Later Major) Stein, there is probably not a lot to learn, but somehow it justifies the price for me.